Mark AB as Capital To Take Over ShriRam EPC By Investing RS. 350 Crore
Kashyap has brought up "Dubai-based family office Mark AB Capital" with 350 crore funding to Shriran EPC with strategy relationship and made Merger and Acquisition possible.
Kashyap has solved all the conflicts that occurred between Shriran EPC and the bankers, by providing a Restructuring proposal to the bankers and brought in a partner with 26% and Revied the company.
The Dubai-based family office Mark AB Capital will take over Shriram EPC, an engineering procurement and construction contractor and part of the financial services conglomerate Shriram group by picking up 26% stake for Rs 350 crore.
The company informed the BSE that its board will meet on May 19 to consider the "strategic investment" by Mark AB Capital.
"A meeting of the board of directors of the company is scheduled for May 19 to discuss and consider issuance and allotment of equity shares by way of preferential issue to a prospective investor, and NCDs to the lenders," the notification said. The acquisition is subject to approvals from lenders and other agencies. Shriram group has been finding it tough to manoeuvre the EPC and it has been tottering. For the fiscal ended March 2020, its revenues were Rs 681 crore and incurred a net loss of Rs 81 crore.
"EPC business requires patience and long term investment commitment. Mark AB has investments across the globe in EPC companies and we thought its a right fit. They will take over the management and become the new promoters and we will do some hand holding till they get completely rooted in," said T Shivaraman, MD & CEO of Shriram EPC. EPC businesses in India are in for better times. "Strong order books and better operational preparedness in the second year of the Covid-19 pandemic will swell the top-lines of mid-sized engineering, procurement and construction (EPC) companies by 15% this fiscal, compared with a nearly 10% fall last fiscal," Crisil said in a note.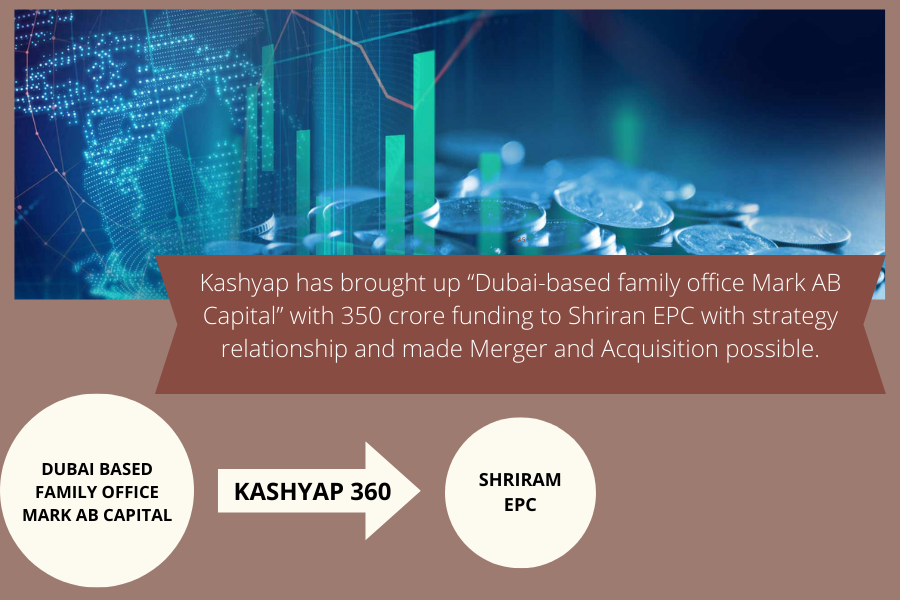 EPC companies into construction of roads, commercial and industrial buildings, irrigation, and allied activities indicate as much. The aggregate top-line of these players were Rs 70,000 crore last fiscal.
Funder – Dubai based family office Mark AB Capital
Fund Identified – Kashyap Management consultant Limited
Fund raised for the company – Shriran EPC
Fund Amount – 350 crore
About KMCL
Kashyap Management Consultants Limited is a 360 Degree proactive business solution provider, founded by a Management Professional, Entrepreneur, Investors, Mentor in the creation, and development of Business in India. We have Extraordinary Professionals, Entrepreneurs (with decades of experience) as Associates to give solutions to corporates – be it a startup, mid-size company, or a bigger organization. We offer services from starting a company through greenfield ventures to established industries in terms of Fundraising, capital markets products to debt bonds from National & International Sources.
Years on Field
Kashyap Management Consultants Limited is 14 + years old Public Company incorporated on 26 Oct 2007. Its registered office is in Chennai, Tamil Nadu, india.